Archive for the 'SAMSUNG' Category
GATEWAY LAPTOPS: SO RED, SO CUTE. SO MAYBE UNRELIABLE:THANK YOU UBUNTU.
Thank you so much from our friend fcarnold@hotmail.com and more Gateway stories .
This excellent post from our fellow Appsnewbie reader tells better  than I can why I am so apprehensive about
Gateway products.
Long on Cute – Long on price – Short on Quality .
To follow up on my Gateway posting and purchase indecision a few months ago.
I Do so hope that UBUNTU is the knight in shining armor..
. 
I got the same Gateway at Office Depot for $ 499.00, what a nice price, as my Sony, which I loved, just couldn't get to work even with recovery disks after 3 yrs use, the average length any of my pc lasted.
Well after reading the prior bad reports, I have my fingers crossed and hope it lasts 3 yrs min.
So far so good and love the big screen and color red.
On a lark, I searched the web and found a free platform called Ubuntu, downloaded the free platform and replaced my Windows Vista which caused so many problems, To my amazement, the new Ubuntu is a gift from the gods, so interesting and fun to use and proved the problem was MICROSOFT not my Sony that I thought I would have to toss out. Now two lovely pc to play with and one, a new African 3rd world system to enjoy. So far keeping my fingers crossed hoping I am one of the lucky ones with my Gateway.
We will see – keep us posted
APPSNEWBIE SAYS..-
T-MOBILE/SAMSUNG GRAVITY DROPPED CALLS- AGAIN
Poor Sam, of the fat fingers, and his heavy touch and his ongoing saga of Smartphone SAMSUNG GRAVITY challenges.
He still hates the touch screen on his Smartphone and the MINUTE  his  T- Mobile contract is over, like a BULLET  he
will turn that SAMSUNG GRAVITY in for a clam shell, and
will be going back to his clamshell – IF he can find one.
The CLAM SHELL  is now the old fashioned CORDED PHONE OF CELLPHONES – lol.
Seriously, though boys and girls, when touch screen phones  were engineered and created
with monetization in mind, of course, the aspect of comfortable and CONVENIENT physiological usage
by those of us who have more than 40 candles on our birthday cake was NOT in the mix. SURPRISE SURPRISE..
Where does that leaves the Fat Finger Sams of the world ? With a JITTERBUG ??
Actually- he will wisely choose a phone to fill HIS needs.
Not a phone  that was made to enable marketers to monetize ( translation- turn BIG BUCKS  at your expense to pay for the hype) that is for sure…
What does Sam of the Fat Fingers WANT a phone to do for him ?
Sam wants  phone to RING and - he wants to be able to open it ,
or push a button and say Hello- and not go sliding his fingers all over to get a connection and  say HELLO.
No dropped connection, please and when he is through talking- say GOODBYE and close that puppy.Period.
Sam of the Fat Fingers  does NOT want to text, scan ,shop or surf the internet on a relatively slow, comparatively teeny screen.
Sam of the Fat Fingers already has  state of the art desktops and laptops that perform  FAR better  than ANY mobile 3G or4G.
BUT – oh whimper – the cell phone manufacturers cannot make ENOUGH  MONEY from someone who only says hello and good buy- and does not buy their junk- (sorry guys.. but in this economy we try to get what we NEED not a time waster.)
The cell phone marketers want you to buy stuff- that is what your phone is for- YOUR desire to talk is just a necessary evil
They want you to SHOP- Not talk…
Just one example:  RINGTONE SUBSCRIPTIONS for $4.99 per month, which you do not need , ( multiply THAT by a few million users   when the COSTS to the cell phone provider is pennies -what a profit margin. )
SEE? Wouldn't YOU want to sell Smartphones and not clamshells or corded phones – albeit with superb sound transmission?
FOLLOW THE MONEY….
SORRY SAM…
APPSNEWBIE SAYS..
PEEK a BOO- I'M SPYING on YOU….
  PEEK a BOO: YOUR SMARTPHONE  SPIES ON YOU
CAN YOU SEE ME NOW  ?
OR DO WANT ME TO  SEE YOU ALL THE TIME ??
If you y do NOT  want your phone to track you  24/7,
Here is some helpful advice.
Your Smartphone has a default   "geotagging" option.
You can by pass this. Really.
Disabling depends on your model.
How to turn off  Geotracking functions:
For BLACKBERRY and ANDROID PHONES
Get details on:
FOR I Phones
Go to SETTINGS- Click on General
Under General – go to  "LOCATION SERVICES"
Check if your LOCATION SERVICES are "ON"
If you want to disable, change to OFF.
DEATH BY TEXT
Driving While Texting (DWT): FOR THOSE YOU LOVE: DON'T
Please paste this in your browser.
http://youtu.be/505k3YCc7Bw
Driving While Texting (DWT)
DWT is the new Drunk Driver of the  American  highways. 
 Researchers in one study demonstrated that driving while texting was twice as dangerous as driving while talking on the phone, a practice which has been shown to be as dangerous as driving with a blood alcohol content (BAC) of .08.
This is the general threshold for intoxicated driving.
 A separate report found that texting and driving is MORE dangerous than drunken driving. It has also been shown that texting is more dangerous than listening, dialing, talking or reaching for a device.
Why IS DWT Dangerous

?
Using a communication device, for any purpose, can be distracting and dangerous.
According to scientists, the brain has a very difficult time processing different information streams. As a result, drivers who are concentrating on eating, dealing with children or changing the radio station — let alone typing a message or having a heated argument with their spouse — have difficulty focusing on the task at hand and reacting to road conditions.
Though driving while texting is a problem among most age groups, it is a bigger problem among teens. As a result, many states prohibit minors from using cell phones for any purpose while driving.
In the United States Congress, legislation has been proposed that would prohibit drivers nationwide, of all ages, from sending emails or text messages while driving.
Driver distraction is one of the leading causes of motor vehicle accidents. One of the fastest growing and most problematic of driver distractions is text messaging.
Numerous studies in recent years have linked auto accidents to text messaging and cell phone use. In response, in January of 2009 the National Safety Council urged state and federal lawmakers to ban the use of cell phones and other text-messaging devices while driving.
Since then, 14 states plus the District of Columbia have banned texting while driving, and several U.S. senators have united behind a bill that would ban driving while texting (DWT) nationwide.
Texting while driving is extremely dangerous, as well as negligent.
ARE YOU GUILTY?
APPSNEWBIE Wonders
WHATS IN YOUR SMARTPHONE ?
Three NFC (near field communication) giants  are announcing a global alliance to help promote the use of the technology as a viable mobile marketing tool.
The firms involved in the NFC World Alliance each represent a different geographic region, and include Blue Bite(America's region), Proxama (EMEA) and Tapit(Asia-Pacific).
All three already have experience in running successful NFC-based campaigns that have helped connect brands to their audiences on a large scale.
"We're very excited about the potential of NFC," says Blue Bite's VP Business Development Dan Trigub, referring the to short-range, high frequency technology that, these days, is often more associated with mobile wallets and mobile payments systems than it is with advertising. In the future, NFC could provide comparable reach to traditional mobile media, Trigub explains.
"NFC is becoming the  standard on mobile handsets," adds Neil Garner, CEO of Proxama, "particularly for tag reading."
Tag reading enables a consumer to tap an NFC-enabled item, like a poster or sticker, to receive information or perform an action. Similar to the functions provided now by barcode scanners, with a tap, users of NFC phones could launch an app or visit a website, for example. But NFC can also enable other actions, too, such as "liking" a brand on Facebook, following a Twitter account, or even switching on Bluetooth to opt into direct-to-mobile offers from a retailer.
In addition to the combined interest in promoting NFC technology, the three companies involved in the alliance have access to the key media buyers in the region, which makes the newly formed group sort of a one-stop-shop for a brand looking to run or expand a global campaign in other regions. Alliance members will provide support, analytics and other tools to participating brands looking to experiment with the new medium, they say.
After a campaign completes, the firms will share the details of what they learned with each other in terms of what worked and what did not, so they can all improve their own systems. At some later point, this information may also be released in the form of research reports or white papers.
And, says Tapit CEO Jamie Cunningham, when there is leftover ad inventory, members may also use that space – like the ad panels at a bus stop, for instance – in consumer education efforts about the benefits of NFC and how it works.
In short, the participating firms simply believe that when it comes to consumer adoption of NFC,
it will be brands leading the way, not the OEMs, handset makers and mobile payments companies. Whether or not that's accurate remains to be seen, of course.
However, the alliance is yet another example of NFC's upward momentum this year, which in and of itself speaks to the technology's growing potential.
One of the most exciting things for apps and developers I have seen in a long time…Cervin Ventures and Tie Angels must think so too.
WE SHALL SEE…
Social analytics firm Claritics, said it has launched a new analytics platform for games and apps for  Android powered mobile devices.
Claritics raised a $1.5 million round as it talked about helping social game and app developers analyze their data and reap more money from their efforts.
 Now the company is extending that effort to mobile apps on Google's mobile operating system.THE
GOOGLE no less.
Mountain View, California based Claritics calls its work "social intelligence." Claritics has been testing it's cloud-based analytics with various venues  that range from game companies to utilities and media companies. It's all about getting enough data and organizing it so that it becomes "actionable."
 In other words, enough "stuff " so you can figure out what to do with it next.  Claritics wants to cash in on the explosion  of the social web and it's deep and wide data mine of buying/purchasing
(MONETZE MONETIZE BABY) and consuming choice  data and to make  automated processes. The service will be to let  developers to narrow their customer search reach, retain users, and launch revenue campaigns on the fly. The real-time data become useful not just for looking back but for predicting the future.
WHO AND WHERE WILL MONEY BE SPENT? TELL ME PUHLEEZE ?
The new mobile platform is self-service,allowing developers to figure out in real-time what is working well — or not — in their mobile games, for example.
 Claritics  lets users delinieate their data based on device type, carrier, campaigns, location and other factors.
Claritics says it has made its sign-up process and usage  more intuitive to dramatically reduce the time it takes to get the analytics up and running. App makers can use the service to evaluate user engagement and the behavior of those who buy things in games.
 WHO BUYS MY STUFF and PLAYS MY GAMES??
Rivals include Kontagent, Apsalar and Flurry.
Claritics has said its platform has been in private beta testing with more than 100 potential customers. The company was founded in 2010 and has around 10 to 15 employees.
 Investors include Cervin Ventures and Tie Angels.
WE SHALL SEE…
APPSNEWBIE SAYS..
SIZE DOES MATTER – WIMM SMALLER MAY BE BETTER? MICROAPP ME ?
This is the WIMM Wearable Platform (now called a  "WIMM.") Sort of a modern day transistor
that took the place of tubes. Back in the Stone age of technology.
It's a tiny Android-powered module that will someday soon be used in watches, bike-mount computers, wearable interfaces, and anything else a clever company can come up with to get you to SPEND YOUR MONEY.
MONETIZE . MONETIZE MONETIZE.
 It is made by  WIMM Labs, an all-star Silicon Valley company that has partnered with iPhone manufacturer Foxconn to usher in the era of the "first screen" and "micro apps."
 The idea of the "first screen," WIMM Labs CEO and former Rambus president Dave Mooring told Betanews, is a response to all the other four screens that we interact with on a daily basis (TV, PC, smartphone, and now tablet).
There is a clear relationship between the amount of time spent with a device and its screen size.
 ( WHAT IF YOU ARE OVER 40 AND CANNOT SEE SO WELL…REALLY?) 
We spend the most time with our presently loved  TV, but we typically only use them a couple of times a day. After all- not much satisfaction in looking at your Samsung Vibrant and eating a whole bag of  Doritos-ahem- but I do not judge- just observe…
Then moving down the love/ engagement line, comes our PCs, then tablets, and finally phones, the device we look at the most, but often for the shortest amount of time.Short bursts.
 WIMM devices will fit in underneath the smartphone, with lots and lots of sessions per day, but they may only be a couple of seconds each.
Micro Apps are pretty much just that : they are tiny single-purpose apps that will turn WIMM into, for example, a remote control for your camera, or a unique security bracelet, or a contactless payment dongle.
 Like a smartphone, WIMM can handle many many apps, and because it is designed to be used  frequently but for short periods of time, the apps should be appropriately "micro-sized."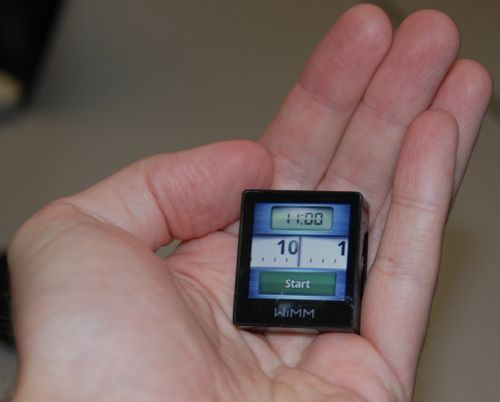 Admire for the new Smartphone User

Students and parents who are
gearing up for back to school will have an affordable and stylish new
touchscreen smartphone choice with a new Android smartphone, the Samsung Admire,

In a recent  study among parents by the National Retail Federation it was found that for this
year's Back to School season that half of respondents report that they will hunt
for sales and almost 44 percent admit they will be spending less money in
general.

In the worst economy in decades-  Why am I so NOT suprised that people are spending less.
The Samsung Admire is a fine choice for the novice Smartphone user.
The  Admire is powered by Android 2.3 and comes
in a choice of two colors, red and gray.

Studentshave of course, thousands of apps on the Android
Market, allowing them to personalize their phones and to access homework help,
GPS or social networking.
On the other hand-when a parent is in foreclosure- how can they buy ANY Smartphone ?
Just wondering..
FL JOBLESS FILING ONLY ONLINE: With a 37 Year old Computer SYSTEM
As of  8/1/2011, Florida's THOUSANDS of jobless will have to  go online to file their claims and get benefits.
Now, how well this is going to work with a 37 year old – pieced and patched computer system is yet to be seen.
As of now 40% of the unemployed Floridians were not going online, that Granny of Computers is going to be stretched to capacity. Using all her power in the warp shields for sure,  Scotty.
Before this, there was a call in  800 number people could use to claim benefits,, but the Florida state estimates they can save over $4Million a year by people just going online to file. Ego – bye to the phone lines.
It has always been my feeling that in our highly technical world  – not having computer  skills puts you where a jobseeker  was in 1950 who could neither read nor write- as a functional illiterate. Unemployable and sadly – culturally deprived.
As necessity is the Mother of invention, these claimants will go the workforce centers and  get help in getting online And their embryonic computer skills will grow .
In fairness- some of them DO know how to file how to use the internet  – but they have no money for a computer- or the cheap machine they had broke and they had no repair money  or they are now homeless and really have no money for internet access.
Many are in the 50 plus age range- still looking for work – no 401K, no pemsion- no savings ;
They are invisible to the emplyers due to age or lack of updated skills.
OR he is 67 – an MBA ,a former senior executive  with superb credentails and a work ethic of pure gold.
He is willing to work in your call center or loading dock for  $ 10 an hour; you will not hire him – he will not "fit in".
He has ONE and only one option- to work a straight commission job- if he just had the gas money.And
Where are the billions of tech profit that was to be used to help us make  all Tech Literatesand Appsnewbies??
Remember- we are still One Nation Under Bailout.
Sigh..
APPSNEWBIE SAYS
JUST WHAT the HECK IS an iphone ?
We can thank http://www.apple.com,
 or we would not be asking.
WHAT YOU WANT TO KNOW BUT ARE TOO ASHAMED TO ASK
Don't worry Bunky- that's why Appsnewbie is here.
I KNOW there is too much stuff to try to absorb.
BUT here is the BASIC DEAL: HISTORY
The iPhone is a line of Internet- and multimedia(meaning they can use multiple sources for getting the thing to work- (hopefully. )
The smartphones are designed and marketed by Apple Inc.
 The first iPhone was unveiled by Apple CEO Steve Jobs on January 9, 2007, and released on June 29, 2007.
An iPhone can function as a video camera (video recording was not a standard feature until theiPhone 3GS was released),
 a camera phone, can send texts and receive visual voicemail, aportable media player,
and be your internet source net for email and web browsing , and both Wi-Fi and 3G connectivity.
 There are four generations of iPhone models, each accompanied by one of the four major releases of iOS (formerly iPhone OS).
 The original iPhone was a GSM phone that established design precedents like screen size and buttons  have persisted on all models.
 The iPhone 3G added 3Gcellular network capabilities and A-GPS location.
The iPhone 3GS added a compass, faster processor, and a clearer, better camera, including video recording at 480p.
The iPhone 4 has a rear facing camera (720p video) and a front facing camera (at a lower resolution) for FaceTime video calling and for use in other apps like Skype.  The phone also featured a higher-resolution display; it was released on June 24, 2010.
In the U.S., AT&T was the only authorized carrier until February 10, 2011, when a CDMA version of the iPhone 4 launched for Verizon.
c