SCIENCE SCREEN REPORT:USA Science & Engineering Festival: VISIT US 
 The Great American Domino Effect Engineering Challenge
Tuesday, April 24, 2012
USA Science & Engineering Festival
Come visit this weekend (April 27-29) at the USA Science & Engineering Festival in Washington DC.  The festival will take place in the Walter E. Washington Convention Center.  SCIENCE SCREEN REPORT will be presenting  The Great American Domino Effect Engineering Challenge, at booth 1231.  Individuals or teams will have 10 minutes to build the biggest, best domino structure, and test their pattern by knocking it over. 
The 2nd annual USA Science & Engineering Festival is a free event, aimed at cultivating an interest in the sciences for students of all ages and backgrounds.   This is the nation's biggest celebration of science and engineering.  The festival will help provide inspiration for undecided students about their career path in the sciences. 
Visit the website below to learn more about the 2nd annual USA Science & Engineering Festival.
Posted by SCIENCE SCREEN REPORT at
3:55 AM

The Great American Domino Effect Engineering
Challenge
SCIENCE SCREEN REPORT will be presenting a The Great American Domino Effect Engineering Challenge at the USA Science & Engineering Festival in Washington DC, April 27-29.  Look for us at Booth 1231 in the Walter E. Washington Convention Center!
SCIENCE SCREEN REPORT, the nation's pre‐eminent science program for schools, presents the "Great American Domino Effect Challenge". Individuals or teams will get 10 minutes to test their engineering skills by building the biggest and best structure from dominos and then creating a "domino effect" by knocking down the dominoes without breaking the pattern. The SSR team will take photos of all entries and display the pictures online and at our exhibit. Prizes available for the most creative structures and best "domino effect"!
For more information visit:
MITSUBISHI ELECTRIC : Oh my, what hast thou WROUGHT NOW FOR PETE'S SAKE?
I see you have wrought a HUGE  82″  MITSUBISHI 3D TV that is sold by BRANDSMART USA FOR $3499.00 
OMG- just how much bigger can a TV screen be?
When I saw this advertised :An 82″ TV by  Mitsubishi also  3D and a stream TV internet  capability,
I could  not believe my eyes-
but one has to you have to have to have  fairly large room to handle that large a screen with viewing comfort.
But the TV manufacturers HAVE to get bigger ann bigger- as the TV viewers want mobile- and commercial fee-
and that monetizarion model just cannot work for the major  net works who are losing viewers…
WE SHALL SEE…
PLEASE  SUPPORT WXEL CHANNEL 42 TV PBS: SAVE BIG BIRD
DONT FORGET ADOPT A SHELTER PET
APPSNEWBIE SAYS..
T-MOBILE/SAMSUNG GRAVITY DROPPED CALLS- AGAIN
Poor Sam, of the fat fingers, and his heavy touch and his ongoing saga of Smartphone SAMSUNG GRAVITY challenges.
He still hates the touch screen on his Smartphone and the MINUTE  his  T- Mobile contract is over, like a BULLET  he
will turn that SAMSUNG GRAVITY in for a clam shell, and
will be going back to his clamshell – IF he can find one.
The CLAM SHELL  is now the old fashioned CORDED PHONE OF CELLPHONES – lol.
Seriously, though boys and girls, when touch screen phones  were engineered and created
with monetization in mind, of course, the aspect of comfortable and CONVENIENT physiological usage
by those of us who have more than 40 candles on our birthday cake was NOT in the mix. SURPRISE SURPRISE..
Where does that leaves the Fat Finger Sams of the world ? With a JITTERBUG ??
Actually- he will wisely choose a phone to fill HIS needs.
Not a phone  that was made to enable marketers to monetize ( translation- turn BIG BUCKS  at your expense to pay for the hype) that is for sure…
What does Sam of the Fat Fingers WANT a phone to do for him ?
Sam wants  phone to RING and - he wants to be able to open it ,
or push a button and say Hello- and not go sliding his fingers all over to get a connection and  say HELLO.
No dropped connection, please and when he is through talking- say GOODBYE and close that puppy.Period.
Sam of the Fat Fingers  does NOT want to text, scan ,shop or surf the internet on a relatively slow, comparatively teeny screen.
Sam of the Fat Fingers already has  state of the art desktops and laptops that perform  FAR better  than ANY mobile 3G or4G.
BUT – oh whimper – the cell phone manufacturers cannot make ENOUGH  MONEY from someone who only says hello and good buy- and does not buy their junk- (sorry guys.. but in this economy we try to get what we NEED not a time waster.)
The cell phone marketers want you to buy stuff- that is what your phone is for- YOUR desire to talk is just a necessary evil
They want you to SHOP- Not talk…
Just one example:  RINGTONE SUBSCRIPTIONS for $4.99 per month, which you do not need , ( multiply THAT by a few million users   when the COSTS to the cell phone provider is pennies -what a profit margin. )
SEE? Wouldn't YOU want to sell Smartphones and not clamshells or corded phones – albeit with superb sound transmission?
FOLLOW THE MONEY….
SORRY SAM…
APPSNEWBIE SAYS..
T-Mobile Launches the Samsung Gravity TXT
FAT FINGER SAM HAS HOPE: T-Mobile Launches  Samsung Gravity
now has a keyboard-
Poor Sam he continues to struggle so with the touch screen-
I wonder if T Mobile will let him  switch; this Samsung Gravity
sounds like a much better option for the "touch screen " challenged….
APPSNEWBIE SAYS…
| Samsung | T-Mobile | Comments (0)
T-Mobile has launched the Samsung Gravity TXT which features a slide-out QWERTY keyboard, and the preloaded Social Buzz app.  The Samsung Gravity TXT brings you all the messaging and social networking options you need to stay connected with family and friends. You can send a message or a photo to any wireless phone or e-mail address. Or stay connected using always-on social networking.

Basic specifications include:
Size:
Camera: 2 megapixel camera
Size: 4.41 x 2.09 x 0.55
Weight: 112g
Included battery: 1000 mAh Lithium ion
Talk time: Up to 4 hours
Standby time: Up to 300 hours
Band (frequency): 850 MHz;900 MHz;1800 MHz;1900 MHz;UMTS: Band IV (1700/2100);Band II (1900)
SIZE DOES MATTER – WIMM SMALLER MAY BE BETTER? MICROAPP ME ?
This is the WIMM Wearable Platform (now called a  "WIMM.") Sort of a modern day transistor
that took the place of tubes. Back in the Stone age of technology.
It's a tiny Android-powered module that will someday soon be used in watches, bike-mount computers, wearable interfaces, and anything else a clever company can come up with to get you to SPEND YOUR MONEY.
MONETIZE . MONETIZE MONETIZE.
 It is made by  WIMM Labs, an all-star Silicon Valley company that has partnered with iPhone manufacturer Foxconn to usher in the era of the "first screen" and "micro apps."
 The idea of the "first screen," WIMM Labs CEO and former Rambus president Dave Mooring told Betanews, is a response to all the other four screens that we interact with on a daily basis (TV, PC, smartphone, and now tablet).
There is a clear relationship between the amount of time spent with a device and its screen size.
 ( WHAT IF YOU ARE OVER 40 AND CANNOT SEE SO WELL…REALLY?) 
We spend the most time with our presently loved  TV, but we typically only use them a couple of times a day. After all- not much satisfaction in looking at your Samsung Vibrant and eating a whole bag of  Doritos-ahem- but I do not judge- just observe…
Then moving down the love/ engagement line, comes our PCs, then tablets, and finally phones, the device we look at the most, but often for the shortest amount of time.Short bursts.
 WIMM devices will fit in underneath the smartphone, with lots and lots of sessions per day, but they may only be a couple of seconds each.
Micro Apps are pretty much just that : they are tiny single-purpose apps that will turn WIMM into, for example, a remote control for your camera, or a unique security bracelet, or a contactless payment dongle.
 Like a smartphone, WIMM can handle many many apps, and because it is designed to be used  frequently but for short periods of time, the apps should be appropriately "micro-sized."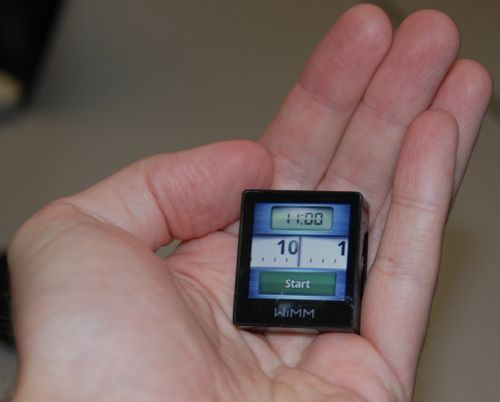 TV SET HISTORY; GIMMME a FRENCH PROVINCIAL TV SET
More TV SET BARGAINS www.BRANDSMARTUSA.COM 50″ for $499.88
Prices fall again- more tv price free fall.
The standard TV set is contining the price slide  into being an appliance like the corded phone.
The new trend is for a personalized viewing experience  - MOBILE – versus static in viewing experience.
However, in Appsnewbie's humble  opinion- it is going to take about a decade for the shift to be quasi complete.
There are other aspects to consider as well.
The matures in our little group will remember when a huge,  carved, ornate
French Provincial TV cabinet to house that 19′  tv screen was a real status symbol.
Something to which to aspire- and a symbol of  success.
Like showing off your new Maytag Washer.
Or the Amana Radar Range -a counter top microwave Goliath that cost a princely $500.
With these – you were living the dream…
My darling 90 year old Uncle had me trotting all  over town to try to find a  "good looking tv set " when his first generation color set  gave up the ghost.
Uncle had begged the local radio and  TV repair shop to see if they could breathe life in to his Lazarus; the tv repairman, who had known my Uncle for more than 20 years, sighed, " I would just be stealing your money- plus I am not sure I can even gets parts  anymore.Go modern- get a new one. " Uncle said- 'But the new ones are  ugly. I want a nice looking  piece of furniture."
MUCH easier said than done; after MANY calls,  and my hoofing with Uncle it to  all the retailers  in town, I went to Best Buy in Minneapolis Minnesota, www.bestbuy.com, and the finest, go beyond the line of duty ,  most patient salesman in the world,  searched until he in a Best Buy warehouse, in another  state, a FINAL CLOSEOUT- GOODBYE FOREVER   color 24 inch set with a French Provincial cabinet.
Uncle was thrilled beyond measure and I will NEVER forget the great customer service I  received from Best Buy- and CONTINUE to receive .NO, Best Buy has never given me a red cent;  they do NOT pay me- it just is my opinion.
But I digress.
Technology will have to continue to accommodate the viewing habits of the MILLIONS of people who are 55 plus in years
heavy TV watcher-  who do not have the inclination- money motivation OR TADAH -
the PHYSICAL and VISUAL skills to read a 4 inch screen.
Hey – www.Samsung.com – Hey www.Motorola.com  make those fonts BIGGER I say unto you..
Sort of a knockoff Jitterbug phone.- with 5 GS -now if you can just figure out how to monetize after you sell the instrument
BOTTOM LINES: How do you get the matures to buy your   stuff if they can't read read the darn mobile ads ??
APPSNEWBIE ASKS
HACKING VICTIM…POOR ME…POOR EMACHINE...
Once upon a time, this is no fairy tale, as in 10 years ago, which I know represents eons in computer world,
poor me- I had 1200 yes – count 'em -1200 viruses ( Trojans – and assorted malware ) that had hijacked my poor- underpowered -pathetically cheap Emachine computer.
My machine started acting "funny" – not as in humor.
My poor, cheap Emachine,  ( which is now owned by GATEWAY ) became unresponsive- then fine for a few minutes; then suddenly, it would freeze- then the letters on my screen would become  HUGE- my entire screen was a GIANT capital E with a font size maybe 30.
My computer was acting like the Exorcist- it did all the strange things but going head  awhirl.
Anyway-having a relative in computer security systems helped me; he traced the infection back to a "prankster hacker " a demonic  teenager in Hong Kong.
After this disaster- I am very sensitive to  Computer Security- and as a lot of us hear these terms but not REALLY know what it means, I  thought you might find it find this helpful.
Stay safe on that information highway. As in ..
AS IN DO NOT TEXT AND DRIVE- WATCH WHERE YOU PUT YOUR KEYSTROKES
During the 1980s and 1990s, it was usually taken for granted that malicious programs were created as a form of vandalism or prank. More recently, the greater share of malware programs have been written with a profit motive (financial or otherwise) in mind. This can be taken as the malware authors' choice to monetize their control over infected systems: to turn that control into a source of revenue.
Spyware programs are commercially produced for the purpose of gathering information about computer users, showing them pop-up ads, or altering web-browser behavior for the financial benefit of the spyware creator. For instance, some spyware programs redirect search engine results to paid advertisements. Others, often called "stealware" by the media, overwrite affiliate marketing codes so that revenue is redirected to the spyware creator rather than the intended recipient.
Spyware programs are sometimes installed as Trojan horses of one sort or another. They differ in that their creators present themselves openly as businesses, for instance by selling advertising space on the pop-ups created by the malware. Most such programs present the user with an end-user license agreement that purportedly protects the creator from prosecution under computer contaminant laws. However, spyware EULAs have not yet been upheld in court.
Another way that financially motivated malware creators can profit from their infections is to directly use the infected computers to do work for the creator. The infected computers are used as proxies to send out spam messages. A computer left in this state is often known as a zombie computer. The advantage to spammers of using infected computers is they provide anonymity, protecting the spammer from prosecution. Spammers have also used infected PCs to target anti-spam organizations with distributed denial-of-service attacks.
In order to coordinate the activity of many infected computers, attackers have used coordinating systems known as botnets. In a botnet, the malware or malbot logs in to an Internet Relay Chat channel or other chat system. The attacker can then give instructions to all the infected systems simultaneously. Botnets can also be used to push upgraded malware to the infected systems, keeping them resistant to antivirus software or other security measures.
It is possible for a malware creator to profit by stealing sensitive information from a victim. Some malware programs install a key logger, which intercepts the user's keystrokes when entering a password, credit card number, or other information that may be exploited. This is then transmitted to the malware creator automatically, enabling credit card fraud and other theft. Similarly, malware may copy the CD key or password for online games, allowing the creator to steal accounts or virtual items.
Another way of stealing money from the infected PC owner is to take control of a dial-up modem and dial an expensive toll call. Dialer (or porn dialer) software dials up a premium-rate telephone number such as a U.S. "900 number" and leave the line open, charging the toll to the infected user.
Starbucks:TOUCH ME and MY iPAD:APP My CUP
Starbucks breaks interactive rich-media ad campaign by targeting iPad users

Starbucks, MTV and VH1 tap Celtra TOUCH

Starbucks Coffee Co. is running a rich-media ad campaign driving interaction with high-value Apple users.
The coffee giant is running banners on the two new sites that encourage users to tap to expand the ad unit into a full-screen, interactive rich-media experience. MTV Networks is looking to provide its consumers with multiple options for reaching its content.
"Our strategy was to pioneer and curate an experience with the touch screen specifically in mind. To my knowledge, MTV and VH1 are the first media brands to launch a touch-optimized browser experience," said Kristin Frank, senior vice president and general manager of MTV and VH1 Digital at MTV Networks, New York.
"We're very active in the app space and will continue to launch innovative products that are app and browser inclusive," she said. "MTV and VH1 have an audience who are early-adopters of technology.
"Our audience is consuming content across multiple platforms, and it's crucial that we're right there with them. With this launch, we're looking to service the fans who are interesting in what's happening now- the latest video, Unplugged performance or series aftershow."
Expandable rich media Starbucks is targeting the intersection of the affluent, early-adopter iPad demographics and MTV's youth segments, as well as VH1's slightly older audience.
The objectives of the campaign were to keep the brand top of mind among these influential consumers and influence purchase intent.The Starbucks banner within the and VH1 iPad-optimized sites asks consumers "What's your Starbucks Signature?" and tells them to "Tap to find out."
Eight ways to caffeinate
Once users tap on their drink of choice, the next screen asks them to :
"Create your Starbucks Signature! With over 87,000 combinations of Espresso Beverages at Starbucks, you're sure to find your signature."
The call-to-action is simply a button that reads "Create Yours." Once tapped upon, users are able to sign or draw on a blank coffee cup by dragging their finger across the iPad screen.
So many espresso beverages, so little time
After consumers complete their virtual signature, they are presented with the finished product, a coffee cup inscribed with their message or drawing.
Users are given the option to create another one, browse the Signature Gallery to see what others have created or watch a video.
Interactive rich media and video can be a powerful combination
Since its launch, the iPad has proved to be an attractive canvas for advertisers due to its intuitive touchscreen interface and relatively large-screen format.
Celtra Inc. helped to power the campaign.
"We are experiencing an increased demand for our rich-media mobile advertising platform across all industry verticals due to a number of successfully executed cross-platform in-app and mobile Web campaigns," said Mihael Mikek, founder/CEO of Celtra, New York.
The term jailbreaking is used when applied to iPhones and iPads, anad refers to a hack that gains
access to previously forbidden areas of the
device to install certain programs or unlock it
for use with different cellular networks. Most
people jailbreak their devices to change icons
or wallpapers or to enable certain short-cuts
that were previously restricted. Put simply, it is
the process of gaining control of your i-device
at the root level so you can make changes
to every element of the code and operating
system if you wish.
The main reasons for jailbreaking are to add to
the functionality of the device you are using.
Because Apple controls both the hardware
and software in all of their products they
often create boundaries that people want to
overcome. A good example of this is just the
ability to change the way the icons on your
home screen look. Apple keeps the ability
to do this locked away inside the software,
preventing users form fully customizing the
device. One of their arguments would be that
third-party code changing the way apps look
could be malicious and access to those file
systems could result in a loss of functionality.
To some, not having the option to do this on a
device they own is a little too presumptuous
and they would like to take the risk. Those
people can use a jailbreak exploit and then
download app icons and install them as and
when they like. The jailbreaking movement is pretty fluid and
exploits have ranged from GUI applications you
install on your home computers, to websites
that let you download the required code. At
the moment there is no workable jailbreak for
the latest software. All jailbreak development is
gearing towards the release of software version
4.2 because this represents a revision that will
see the iPad, iPhone and iPod touch match up
in terms of functionality (currently the iPad is
behind the times). Once this is made public a
jailbreak will soon follow – no doubt available in a
new, novel way.
The pros are the ability to add vast new
features to your i-device. It's interesting
because the features that have appeared
through jailbreaking have pretty much all
ended up coming to the official software.
Folders, multitasking, home screen
backgrounds and Cut & Paste are a few of
them. I personally have jailbroken for shortcuts
to my settings using SBSettings app, for Lock
screen information using Locklnfo app and se
I can fully customise my iPhone. I understand
the risks involved but I always do my rssearc.
on the jailbreak apps I install to make sure
they come from reputable developers and
that they have been used successfully and
safely in the jailbreak community
Will jailbreaking
my iPhone affect
my warranty? Yes. If you take a jail broken device into an
Apple Store you will be refused your warranty.
There is, however no harm in restoring your
device back to its factory settings before
turning it in for repair – if you can. Ultimately,
if you have any doubts about jail breaking your
phone then it is probably best to avoid the
procedure and enjoy your iPhone or iPad as it
was originally intended.
JUST FOR THOUGHTS
APPSNEWBIE